We were recently asked by a COOConnect member about the best sources for information about the strengths/weaknesses of the various hedge fund applications including front, middle and back office. Since we know many folks have this same question, today we are going to expand on the answer given by our expert, Mark Coriaty.

Now the way a hedge fund uses an application will vary based on its investment strategy, and therefore the perceived strengths and weaknesses may vary as well. However, there are multiple ways to establish a baseline of strengths and weaknesses.
Service Provider Reports: Balancing Bias with Value
First up are free reports from hedge fund service providers such as Eze Castle Integration. Each year we publish a benchmark study that outlines top applications used in select front, middle and back office categories by hedge funds. This report will provide a baseline of the top three application vendors used in each category, but doesn't dive into specific feature sets. The report can be downloaded HERE.

Vendor reports can be helpful in getting an initial understanding of the most frequently used applications and top features used by firms. You should always consider the source, as some vendor reports or whitepapers will be biased.
Categorized under: Software Hedge Fund Due Diligence Hedge Fund Marketing Hedge Fund Operations Infrastructure Launching A Hedge Fund Project Management Trends We're Seeing
In case you missed it, this week the Pentagon released its Annual Report to Congress looking at the military and security developments involving China. According to the New York Times, the report is virtually the first time "the Obama administration has explicitly accused China's military of mounting attacks on American government computer systems and defense contractors, saying one motive could be to map 'military capabilities that could be exploited during a crisis.'"

The report states that cyberwarfare capabilities could serve Chinese military operations in three key areas.
First and foremost, they allow data collection for intelligence and computer network attack purposes.
Second, they can be employed to constrain an adversary's actions or slow response time by targeting network-based logistics, communications, and commercial activities.
Third, they can serve as a force multiplier when coupled with kinetic attacks during times of crisis or conflict.
Categorized under: Security Data Loss Prevention Hedge Fund Operations Infrastructure Trends We're Seeing
VMware, the original virtualization company, is continuing to evolve as virtualization technology heads towards the commodity department. The company's newest push is around the concept of End-User Computing.

With its end-user computing products and strategy, VMware is aiming to give IT the tools and means to transform "siloed desktops, applications, and data into centrally managed IT services, delivered to end-users securely, on the device of their choice." This means allowing IT to centrally set policies, encrypt data, ensure corporate governance is followed and do much more on all devices a user may use.


Categorized under: Cloud Computing Infrastructure Trends We're Seeing
In honor of the mobile phone turning 40 years old this week, today's post is on the BlackBerry Z10. (BTW: did you know the first mobile phone weighed 2.5 pounds and took 10 hours to charge?!)

Back to the topic at hand. In January, when the BlackBerry Z10 was just officially unveiled, we took a look at the bells and whistles available on the device (Read: BlackBerry's Reinvention: A look at BlackBerry Z10). And now that the BlackBerry Z10 is available in over 35 countries, by all accounts it is just what the company needs if they have any hope of taking back market share from iPhone and Android makers.

As part of its promotional push, BlackBerry is even letting iPhone and Android users test drive the new operating system by pointing their mobile browsers to BlackBerry.com/glimpse.
Categorized under: Communications Eze Castle Milestones Infrastructure Launching A Hedge Fund Trends We're Seeing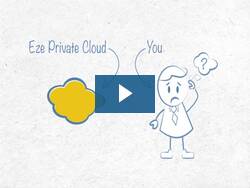 Cloud computing is becoming a standard IT deployment method for the investment management industry. In fact, our 2012 survey found that 8 in 10 investment management firms are either currently or planning to use a cloud service. So once a hedge fund or alternative decides to go cloud the next question is "why go Eze Private Cloud?"

Well, we have the perfect answer to that, and you can have it in just 60-seconds. Watch our quick video and learn why Eze Private Cloud is the investment industry standard for cloud services.



Categorized under: Cloud Computing Eze Castle Milestones Infrastructure Launching A Hedge Fund Outsourcing Trends We're Seeing Videos And Infographics
On 19th March, the Eze Castle Integration team in London hosted their first-ever Hedge Fund Cloud Summit at the Prince Philip House.

Eze Castle Integration along with leading experts in the financial services industry - INDOS Financial Limited, Morgan Stanley Prime Brokerage, Bloomberg, Credit Suisse Prime Services, Lucidus Capital Partners LLP, Portman Square, LLP, eSentire, Global Relay, and Simmons & Simmons - came together to provide a half day educational seminar featuring a wealth of information on the cloud to over 100 hedge fund and alternative investments firms.
Categorized under: Cloud Computing Infrastructure Outsourcing Security Trends We're Seeing
Yesterday our VP of client technology, Steve Schoener, presented on a California Hedge Fund Association webinar about building an institutional infrastructure at today's hedge funds. A lofty topic (so consider this a basic primer), Steve focused on four key discussion areas, which we'll recap here. They were:
Investor Expectations of IT

On-premise & Cloud solutions: Which is right?

Security Risks & Best Practices

Disaster Recovery How-Tos
You can watch the 30-minute webinar now or keep reading below.
Categorized under: Infrastructure Cloud Computing Hedge Fund Due Diligence Hedge Fund Operations Launching A Hedge Fund Outsourcing Security Trends We're Seeing
Today we released our Best Practices for Managing IT Security Risks: A Hedge Fund Manager's Guide, which we developed with eSentire. Following is a sneak peak of the guidance included in the 10-page guidebook. Assuming we have whet your appetite, you can download the entire guidebook here or attend our upcoming webinar on the topic (register here).
Managing Security Threats Facing Hedge Funds
Most successful cybersecurity attacks in today's environment occur via three different methods: malware via email, malware via a website download (drive-by download or man-in-the-middle) and transfer via USB. In most cases, an employee will download an unsuspecting virus or open an unsuspecting email, triggering a malware attack that could open the door for further intrusion. Alternatively, a trend becoming more common is the threat of employees transferring information onto USB drives (whether knowingly or unknowingly), resulting in an internal security breach. Externally –and regardless of the intrusion method – attacks typically follow a similar path from start to finish. Global security firm Lockheed Martin has identified steps to what they call the "cyber kill chain."
Reconnaissance: Collecting information and learning about the internal structure of the host organization
Weaponization: How the attacker packages the threat for delivery
Delivery: The actual delivery of the threat (via email, web, USB, etc.)
Exploitation: Once the host is compromised, the attacker can take advantage and conduct further attacks
Installation: Installing the actual malware, for example
Command & Control: Setting up controls so the attacker can have future access to the host's network
Actions or Objections: The attacker meets his/her goal (e.g. stealing information, gaining elevated privileges or damaging the host completely)
Categorized under: Security Cloud Computing Hedge Fund Operations Infrastructure Trends We're Seeing
Here on the Hedge IT blog, we love to talk about the cloud. However, most of our discussions focus on the technology and operational considerations for investment firms. This week, we're taking a different approach and looking at the cloud from a business perspective. On Tuesday we explored the business case for moving to the cloud. Today, we're taking the CFO's point of view.

You're a hedge fund CFO. Your CTO has proposed moving the organization's IT infrastructure to the cloud using a third party service provider. What questions should you ask to gain a better understanding of the impact this change could have on your team and the firm at large?
Categorized under: Cloud Computing Hedge Fund Operations Infrastructure Outsourcing
While the technology benefits of moving to the cloud are well known, the business case for moving to the cloud is just as important. The hedge fund industry is increasingly moving towards cloud computing not only for the vast technology benefits, but also for the enhanced efficiencies, high quality technology environment, and numerous cost savings. Read on to learn the business case for adopting cloud computing technology at your firm.


Transferring from CapEx to OpEx
Today, many hedge funds are grappling with ways to achieve efficient operations while remaining as competitive as possible. Companies are examining the costs associated with their IT departments in order to determine the best way to make their technology more cost effective. For many firms, this means moving to the cloud. One of the major benefits of adopting cloud computing technology is the resulting movement from CapEx to OpEx.

This shift allows a decrease in capital expenditures (CapEx) and an increase in operational expenses (OpEx), providing potential tax benefits. The tax benefit is the result of OpEx allowing for the deduction of expenses in the current year and the cutting of tax liability applied to net income. Furthermore, there are few upfront capital expenditures associated with adopting a cloud model as there with building out in-house comm rooms and data centers. This is because cloud providers deploy a "pay-as-you-go" service model.

Categorized under: Cloud Computing Hedge Fund Operations Infrastructure
Recent Posts
Categories
Archives