Yesterday, we hosted a webinar, "Going Social: What Investment Firms Need to Know about Social Media Compliance" along with Global Relay, an Eze Castle Integration partner and provider of enterprise message archiving and monitoring services. Global Relay's vice president of sales, Bryan Young, and our own vice president of marketing, Mary Beth Hamilton, discussed a range of topics including the changing SEC guidance on social media, compliance requirements for hedge funds and key components of instituting a social media policy at an investment management firm. Read on for a recap of the event, or watch the full replay now.
Categorized under: Hedge Fund Regulation Hedge Fund Operations Privacy Compliance Security Trends We're Seeing
In the wake of the 2008 financial credit crisis, investment firms have recognized the need for more robust liquidity risk management tools and procedures. However, due to shifting regulations and detailed fund and investment structures, fund of funds, private equity firms, hedge funds, and institutional investors continue to grapple with liquidity management and reporting within their investment portfolios. The following is a high level overview of both the liquidity risk challenges facing firms today, and the ways in which some fund managers are overcoming these challenges.

What is liquidity risk, and how does it affect funds?
Liquidity is the extent to which an asset or security can be bought or sold in the market, while not impacting the asset's price. The concept of liquidity is comprised of illiquid assets, which are the result of liquidity risk and cannot be instantly sold due to value uncertainty and lack of a market. Liquidity risk refers to the concept that an asset or security cannot be traded at the rate necessary to achieve returns and bypass losses. In the last several years, worldwide economic challenges including rising liquidity costs, a more uncertain market and lower levels of market assurance have contributed to the liquidity management challenges facing funds. Liquidity risk's ability to negatively impact and compound other types of risk, such as credit risk, also has far reaching consequences for the financial markets. These consequences make it even more imperative for firms to get a handle on their liquidity risk management practices.
Categorized under: Hedge Fund Operations Hedge Fund Regulation Software Trends We're Seeing
Historically, financial services firms have not been the most active group in the social media sphere. In a 2011 survey of hedge fund managers conducted by MHP Communications, only 1% of firms were active participants on Twitter, and none of the managers surveyed were active on Facebook. More recently, however, the tides have begun to change. Following Goldman Sachs' entrance into the Twitterverse in May 2012, investment management firms and their employees have started to increase their social media participation. With this growing trend comes the added layer of social media compliance with industry legislation.

The Legal Perspective
According to the SEC's Rule 17a-4(b), registered investment advisers and broker-dealers should archive all business communications on social media for a minimum of three years. As the frequency of discovery audits continues to rise, firms should ensure these communications are easily searchable and can be recovered quickly in the event of an SEC inquiry.
Categorized under: Trends We're Seeing Hedge Fund Regulation
Today, we're excited be hosting the 2013 London Hedge Fund Cloud Summit at the Prince Philip House in London. The event features a variety of industry experts participating in thought-provoking panel disccussions focused on the cloud adoption trends shaping the investment industry. Conversations will touch on everything from the differences between public and private clouds to cloud security and application hosting.

In honor of this event and to provide a visual to help encapsulate the many benefits that come from leveraging a private cloud, we have published a new infographic entitled "You Might be a Private Cloud User If…" Check it out to see the top 10 signs that you are likely a private cloud user. For more information and details on the 2013 London Hedge Fund Cloud Summit please visit the event page. Also, be sure to look out for a recap of the event here on the Hedge IT blog next week!
Categorized under: Cloud Computing Eze Castle Milestones Hedge Fund Due Diligence Hedge Fund Operations Hedge Fund Regulation Launching A Hedge Fund Trends We're Seeing Videos And Infographics
Last week, we hosted a webinar covering AIFMD's impact on US based hedge funds. The event featured Bill Prew, Founder of INDOS Financial Limited, and provided a high level overview of the changes that AIFMD will potentially bring to the alternative investment industry. Prew specifically focused on how US based managers will be impacted by this legislation. Read on for a summary of the main topics covered during the event, including an overview of AIFMD and the considerations and upcoming changes for US managers.


About the Expert
Bill Prew is the founder of INDOS Financial Limited. Before founding INDOS, he was the chief operating officer at James Caird Asset Management, a hedge fund with offices in London and New York. He has also served in various senior roles at Barclays Global Investors and PricewaterhouseCoopers. Following a summary of the information presented by Mr. Prew during our recent webinar.


Categorized under: Hedge Fund Regulation Communications Hedge Fund Due Diligence Hedge Fund Marketing Hedge Fund Operations Launching A Hedge Fund Privacy Compliance Trends We're Seeing
This fall, Microsoft's new Windows 8 operating system captured the attention of many customers. Windows 8, however, isn't the only Microsoft change 2013 will bring. Microsoft is planning to provide stricter oversight of its auditing process by conducting up to 30,000 licensing audits on small to midsize companies by 2014. Here is an overview of why you should ensure that your software is up to date and what to expect when it comes to the Microsoft licensing audits.

What are the Microsoft Licensing ​Audits?
In 2013, Microsoft will conduct audits on customers' software usage. The audits will be mainly focused on mid-size companies with 500 - 2,000 computers. Many large companies have already put strict companywide licensing policies in place, but smaller firms typically have less formalized processes for ensuring all devices are licensed appropriately. As a result, Microsoft's auditing focus is shifting to smaller companies. These audits will ensure that clients' software is correctly licensed and paid for.
Categorized under: Hedge Fund Regulation Hedge Fund Operations Software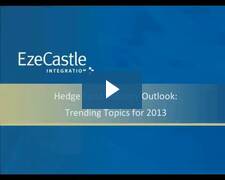 Last week, we hosted a webinar on the Hedge Fund Industry Outlook for 2013 with speakers Deborah Prutzman, CEO of the Regulatory Fundamentals Group, and Mary Beth Hamilton of Eze Castle Integration. Following is a recap of the key topics discussed around operational due diligence, regulations and technology trends.

Insights from Deborah Prutzman, Regulatory Fundamentals Group
2012 was a year marked with significant regulatory changes in the world of investment management. So far, we're expecting to see more of the same in 2013. This time, the direction and manner of change will likely be more predictable. Some important themes we expect will permeate throughout the year include:
Categorized under: Hedge Fund Operations Disaster Recovery Hedge Fund Due Diligence Hedge Fund Regulation Launching A Hedge Fund Trends We're Seeing
As 2013 begins, managers of hedge funds and other financial services firms should be aware of upcoming changes within the regulatory environment. Investment firms in the US can expect to be impacted by stricter controls, laws and more detailed investigations imposed by the SEC and other governing agencies. Here's a high level overview of some of the most important regulations to keep your eye on this year:

The JOBS Act
The Jumpstart Our Business Startups Act, also known as the JOBS Act, was signed into law by President Obama on April 5th, 2012. It's intended to assist eligible companies in seeking initial public offerings by simplifying the procedure for going public. This legislation eases federal regulations and allows for crowd funding – enabling individuals to become investors. As a result of the JOBS Act, small business startups will be able to collect money from private individuals without making an IPO.
Categorized under: Hedge Fund Regulation Hedge Fund Operations Trends We're Seeing
In the wake of Hurricane Sandy, many hedge funds and investment firms in the Northeast region took account of their firms' operations and assessed the aftermath. Business continuity plans and disaster recovery procedures were undoubtedly put to the test as power outages and flooding wreaked havoc on the area. In a previous Hedge IT post, we discussed many of the lessons that fund managers took away from this experience. Today we're taking an even closer look at how investment firms fared during the disaster, as agencies such as the SEC and FINRA are now conducting in-depth examinations of many such organizations.

These post-Sandy investigations are being conducted on several firms throughout the Northeast, and although they are not technically intended as a sweep exam, they're being used as a mechanism to gather information on the lessons that were garnered through the storm. The SEC may potentially use the responses in aggregate as a basis for implementing new BCP recommendations or guidelines in the future. Additionally, these exams aim to raise awareness about the importance of having a comprehensive business continuity plan in place and conducting regular testing.
What can you expect from an SEC/FINRA exam?
Categorized under: Business Continuity Planning Disaster Recovery Hedge Fund Regulation
Here we are again – at the end of another year and recapping some of the best and most popular posts from the Hedge IT Blog in 2012. This year, we spent a lot of time talking about cloud computing, security, and disaster recovery, among other topics.


As always, we welcome your feedback and would love to hear your suggestions for future articles on Hedge IT. In the meantime, we'll continue to bring you new and interesting posts related to all of your favorite hedge fund technology topics.

At last, here is a recap of our most popular blog articles of 2012:
This year, we undertook a research study surveying 130 hedge funds and alternative investment firms in regards to their adoption of cloud technology. The results revealed that more than eight out of ten investment firms are either currently using or planning to use cloud computing services in the near future. This shift towards the cloud signifies a major trend in the financial services space as firms look to move away from costly on-premise technology infrastructures. You can download the complete survey report here.
Categorized under: Cloud Computing Business Continuity Planning Disaster Recovery Hedge Fund Due Diligence Hedge Fund Operations Hedge Fund Regulation Help Desk Infrastructure Outsourcing Security Trends We're Seeing
Recent Posts
Categories
Archives