This week Opalesque Radio featured an interview with Bob Guilbert, managing director here at Eze Castle Integration, on addressing operational challenges facing hedge funds with cloud solutions.
The 9:30-minute podcast covers a range of topics. You can listen to the full podcast HERE, just jump to the sub-features that interest you most below.


Categorized under: Cloud Computing Disaster Recovery Eze Castle Milestones Hedge Fund Operations Launching A Hedge Fund Trends We're Seeing Videos And Infographics
We hope you're enjoying this week full of videos here on the Hedge IT blog! On Tuesday, we shared footage from our friends at Zerto featuring our vice president of client technology, Steve Schoener, who spoke about cloud disaster recovery during a recent webinar.

Today, we're excited to share with our readers a video spotlighting Eze Castle Integration that was produced by the team at Channel Partners Online. Recently, the group honored Eze with its Channel Partners 360° Award, which celebrates excellence in innovation, technology solutions and customer satisfaction.

Check out the video they created about our team, solutions and services. And, of course, a special thanks goes out to Channel Partners Online for their fantastic work!

Categorized under: Business Continuity Planning Eze Castle Milestones Trends We're Seeing
In honor of the mobile phone turning 40 years old this week, today's post is on the BlackBerry Z10. (BTW: did you know the first mobile phone weighed 2.5 pounds and took 10 hours to charge?!)

Back to the topic at hand. In January, when the BlackBerry Z10 was just officially unveiled, we took a look at the bells and whistles available on the device (Read: BlackBerry's Reinvention: A look at BlackBerry Z10). And now that the BlackBerry Z10 is available in over 35 countries, by all accounts it is just what the company needs if they have any hope of taking back market share from iPhone and Android makers.

As part of its promotional push, BlackBerry is even letting iPhone and Android users test drive the new operating system by pointing their mobile browsers to BlackBerry.com/glimpse.
Categorized under: Communications Eze Castle Milestones Infrastructure Launching A Hedge Fund Trends We're Seeing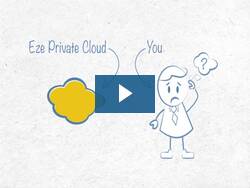 Cloud computing is becoming a standard IT deployment method for the investment management industry. In fact, our 2012 survey found that 8 in 10 investment management firms are either currently or planning to use a cloud service. So once a hedge fund or alternative decides to go cloud the next question is "why go Eze Private Cloud?"

Well, we have the perfect answer to that, and you can have it in just 60-seconds. Watch our quick video and learn why Eze Private Cloud is the investment industry standard for cloud services.



Categorized under: Cloud Computing Eze Castle Milestones Infrastructure Launching A Hedge Fund Outsourcing Trends We're Seeing Videos And Infographics
Today, we're excited be hosting the 2013 London Hedge Fund Cloud Summit at the Prince Philip House in London. The event features a variety of industry experts participating in thought-provoking panel disccussions focused on the cloud adoption trends shaping the investment industry. Conversations will touch on everything from the differences between public and private clouds to cloud security and application hosting.

In honor of this event and to provide a visual to help encapsulate the many benefits that come from leveraging a private cloud, we have published a new infographic entitled "You Might be a Private Cloud User If…" Check it out to see the top 10 signs that you are likely a private cloud user. For more information and details on the 2013 London Hedge Fund Cloud Summit please visit the event page. Also, be sure to look out for a recap of the event here on the Hedge IT blog next week!
Categorized under: Cloud Computing Eze Castle Milestones Hedge Fund Due Diligence Hedge Fund Operations Hedge Fund Regulation Launching A Hedge Fund Trends We're Seeing Videos And Infographics
It's hard to believe it, but we have officially reached the 300th post here on the Hedge IT blog!

To commemorate this special occasion, we're bringing back the Hedge IT blog awards honoring the best articles, topics and trends from the past year as a way of saying "thanks" to all of our loyal readers. We look forward to continuing this tradition of sharing valuable, thought provoking content with you again this year. Here's to the next 100 posts!

Enjoy!
Categorized under: Eze Castle Milestones Trends We're Seeing
H
ave we mentioned we dig the cloud? Well we do and we are happy to introduce you to the newest addition to our cloud family – Eze App Cloud.

Weighing in at 60+ applications, Eze App Cloud comes to us from the Eze Private Cloud and is tailor made for application vendors servicing hedge fund and investment management firms.

The App Cloud has been a long time in the making and aims to address many challenges, including the need for a central, consolidated cloud platform to run all hedge fund applications and IT services. With adoption of cloud services growing, there are many disparate cloud platforms with varying degrees of quality and customization. We are increasingly seeing clients challenged to integrate applications (i.e. OMS, Risk, CRM) all running on different cloud platforms and networks. The cloud is supposed to simplify operations, not make them more difficult.

Eze App Cloud is prepared (and designed) to be the ONE cloud platform for everything a hedge fund needs.
Categorized under: Cloud Computing Eze Castle Milestones Hedge Fund Operations Infrastructure Launching A Hedge Fund Outsourcing Trends We're Seeing
Pzena Investment Management is a 16-year-old hedge fund with a solid return record and a reputation for business integrity, research excellence and devotion. With close to 70 employees between the New York headquarters and a representative office in Melbourne, Australia, the company relies upon its IT department and technology consultants to oversee its 80 computers and 30 virtualized servers. As a public company and reputable investment management firm, Pzena must be assured that its critical systems and applications, such as its portfolio accounting system, email service, Microsoft Office applications and Swift Connections, are operating properly on a 24x7x365 basis to ensure client needs are addressed promptly.

Seeking an IT Partner for the Future
In 2009, the firm decided the time had come to replace its existing technology consulting company. In its search for a new partner, Pzena reviewed the qualifications of several firms and gathered referrals from other companies in the investment management market. Based on this research and feedback, the firm chose Eze Castle Integration for its deep technology knowledge, worldwide support and the ability to leverage Eze Castle personnel as on-site system administrators.
Categorized under: Hedge Fund Operations Eze Castle Milestones Help Desk Outsourcing
With the holiday season just around the corner, we're reminded to take a moment to appreciate what we have, and give back to those who may not be quite as lucky this year.

In keeping with the spirit of the season, we'd like to take this opportunity to recognize the amazing work of one of our favorite nonprofit organizations, Hedge Funds Care. This group is committed to preventing and treating child abuse by raising money to fund programs that support victims in their local communities around the world. These noble efforts are made possible by the generous support of individuals and companies throughout the hedge fund industry. We encourage you to learn more and consider becoming a supporter by visiting the Hedge Funds Care website.
Categorized under: Trends We're Seeing Eze Castle Milestones
This week marks the unofficial kickoff of the 2012 holiday season. With Thanksgiving just around the corner, we've been thinking about what we're truly thankful for this year.

As you might recall, we've had a lot to be thankful for the past few years. In 2010 we acknowledged our thanks to some of our favorite charitable organizations such as Hedge Funds Care and Big Brothers Big Sisters. We also shared our gratitude for our awesome network of partners and clients around the world.

Last year, we asked our employees what they were thankful for and videotaped their responses. Since that was a such a big hit, we thought we'd ask some other employees that same question this year. Take a look at what they had to say:
Categorized under: Trends We're Seeing Eze Castle Milestones
Recent Posts
Categories
Archives